The Administration page now offers more ways to create, manage, and share distribution lists with other users.
To add people to a distribution list, click the checkbox next to their names. Then, click the Actions menu on the right, and select "Add users to a Distribution List." You can select an existing distribution list, or click "Create New" to add them to a new list.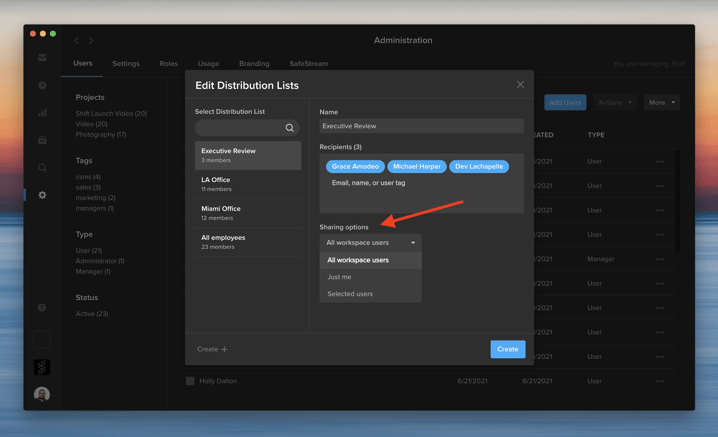 When you create or edit a distribution list, you can now share the list with specific workspace users or make the list accessible to your entire workspace. You can still create a private list that is only accessible to you by selecting "Just me" from the sharing options.
To edit a distribution list, click the More menu on the Administration page, and select "Manage Distribution Lists." This opens a window where you can review and make changes to your lists, such as adding or removing members and choosing a different sharing option.
In addition to emails and names, you can now enter user tags to add multiple tagged users to a distribution list. For example, if five different users are tagged with "marketing," start typing "marketing" to add all five of these users at the same time.
Adding new users to distribution lists
When you add new users to your workspace, you can now easily include them on existing distribution lists.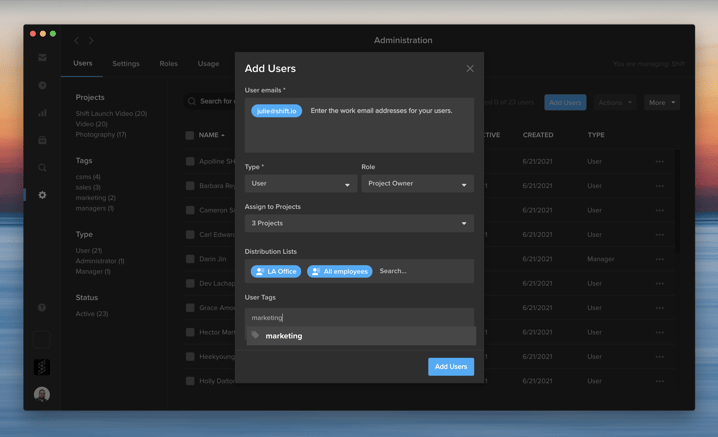 Start by clicking the blue "Add Users" button on the Administration page. Then, enter the users' email addresses and choose their project assignments. Next, you can select a distribution list to add these new users to the list. For example, add new employees to an "All Employees" distribution list as they join your team.